Stimulating Conversation Today challenges intermediate to advanced-level Japanese students to converse about many of today's important social issues, including employment practices, gender discrimination, STDs and sex education, and global warming. Each chapter stimulates students to identify their own values, work cooperatively in pairs and small groups, think critically, and find creative solutions to global issues that are affecting Japan and the world.
The wide variety of activities in the book includes picture identification, value clarification, information gaps, role plays, interviews, discussion games, creative dictations, and challenging reading and listening activities. In each chapter, students' background knowledge is first activated and then new information is imparted, resulting in students who are better informed and prepared to communicate about today's critical issues.
Why does each chapter have so many different activities?
The author, who has been teaching in Japan for more than fifteen years, wanted to write a textbook that stimulates a variety of language learning styles. Students, who have a wide range of needs and levels, benefit, and teachers benefit by being able to pick and choose the most appropriate exercises for their particular classes. As practicing teachers ourselves, the author and publisher desired to produce a textbook that frees dedicated teachers from having to spend time adapting the material to their classes. We believe that a good textbook allows busy teachers to devote more time and attention to their students.
In addition, the author has created a collection of supplemental ideas including a list of music to set the tone for each unit, on-line activities to give students more exposure and practice time with vocabulary in the text, and a list of on-line interviews in English that offer new perspectives and other opinions about related topics. Information and links to the on-line material is available in a PDF that you can download from the download page of this website. Of course, you can also download an answer key, audio scripts and a guide to using Stimulating Conversation Today.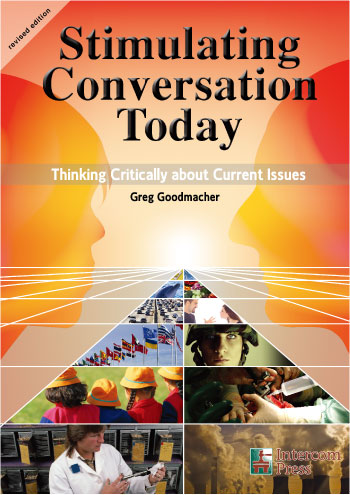 by
Greg Goodmacher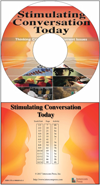 Book size: A4
Pages: 104
Printed on 100% Recycled Paper
Materials: ISBN:
| | |
| --- | --- |
| Student Book | 978-4-900689-92-3 |
| Class CD | 978-4-900689-63-3 |
contents:
Unit 1 Global Warming: Whose Responsibility is It?
Unit 2 Globalization: Is it Positive or Negative?
Unit 3 Foreigners Living in Japan: Advantages and Disadvantages
Unit 4 Employment Issues: What is a Job Really Worth?
Unit 5 Men and Women: Are We Equal?
Unit 6 The Supernatural: Do You Believe?
Unit 7 Organ and Tissue Donation: It's Your Body!
Unit 8 Animals: Do They Have Rights?
Unit 9 Violence and Nonviolence: Personal and International
Unit 10 Education Today: How Good is Yours?
Unit 11 The Family: Joy and Stress
Unit 12 Marriage and Divorce: Married Life vs. Single Life
Unit 13 Sex Education and STDs: Are You Safe?
Unit 14 Morality and Immorality: Are You a Good Person?
SAMPLE AVAILABLE
Click here to see sample (unit 10) NOW.
Click here to download unit 10 sample.(PDF Format, 1.4 MB)
Click here to download unit 7 sample.(PDF Format, 960 KB)
Click here to download unit 13 sample.(PDF Format, 960 KB)
Click here to download contents page.(PDF Format, 20 KB)
Click here to listen to Unit 7 Audio sample NOW(mp3 Format)
Click here to listen to Unit 10 Audio sample NOW(mp3 Format)
Click here to listen to Unit 13 Audio sample NOW(mp3 Format)