Humanity and Technology is an integrated skills textbook for students of pre-intermediate level or higher. This text will help students to improve their skills in listening, speaking, reading, writing, presentation and critical thinking. The book is also designed to help students to become more independent learners.
The large amount of material and variety of activities in each unit offers teachers many options to match different learner needs. Many of the activities can be assigned as homework, often utilizing the student audio tracks which are available as mp3 files on this website and as a downloadable zip archive of all tracks for listening to on an mp3 player.
Students are further supported by a glossary of the majority of the words and terms in the text, writing tips, presentation tips and vocabulary development exercises.
The topics in Humanity and Technology explore the relationship between humanity and technology. Students are encouraged to think seriously about the benefits and dangers of technology for humanity and for their own lives. Each unit explores the role of technology in different areas of life.
Materials: ISBN:
| | |
| --- | --- |
| Student Book | 978-4-900689-58-9 |
| Class CD | 978-4-900689-45-9 |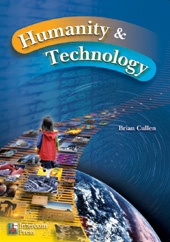 by
Brian Cullen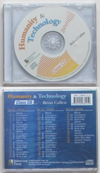 Book size: A4
Pages: 128
Printed on 100% Recycled Paper
Please Note:
Effective 1 September 2013, the student CD audio tracks are available for listening to or downloading in mp3 format from this website.
A Student CD is no longer included with the textbook.
To listen to the audio or download the zip archive, click here.
contents:
Unit 1 History of Science and Technology
Unit 2 Communication
Unit 3 Energy
Unit 4 Robots and Artificial Intelligence
Unit 5 Food Technology
Unit 6 The Internet
Unit 7 Climate
Unit 8 Let's Build
Unit 9 The Media
Unit 10 Pollution
Unit 11 Population and Aging Society
Unit 12 The Future